When it comes to furnishing your home with stylish and functional storage solutions, sideboards are a popular choice. These versatile pieces of furniture not only provide ample storage space but also add a touch of elegance to any room. With the advent of online shopping, buying sideboards has become more convenient than ever.
In this blog, we will explore the benefits to buy sideboard online, including a wider selection, competitive pricing, and the convenience of shopping from the comfort of your own home. Whether you're looking for a modern, rustic, or classic design, online retailers offer a variety of options to suit your style and budget. 
Endless Selection and Styles  
One of the biggest advantages to buy sideboard online is the vast selection of styles and designs available. Online retailers offer an extensive range of sideboards, from sleek and minimalist designs to ornate and traditional pieces.  
You can explore different materials, finishes, and sizes to find the perfect sideboard that matches your home decor and fits your storage needs. With just a few clicks, you can browse through various online stores and compare different options, allowing you to make an informed decision.
Competitive Pricing and Discounts  
Another significant benefit of buying sideboards online is the competitive pricing and potential for discounts. Online retailers often offer lower prices compared to physical stores due to reduced overhead costs.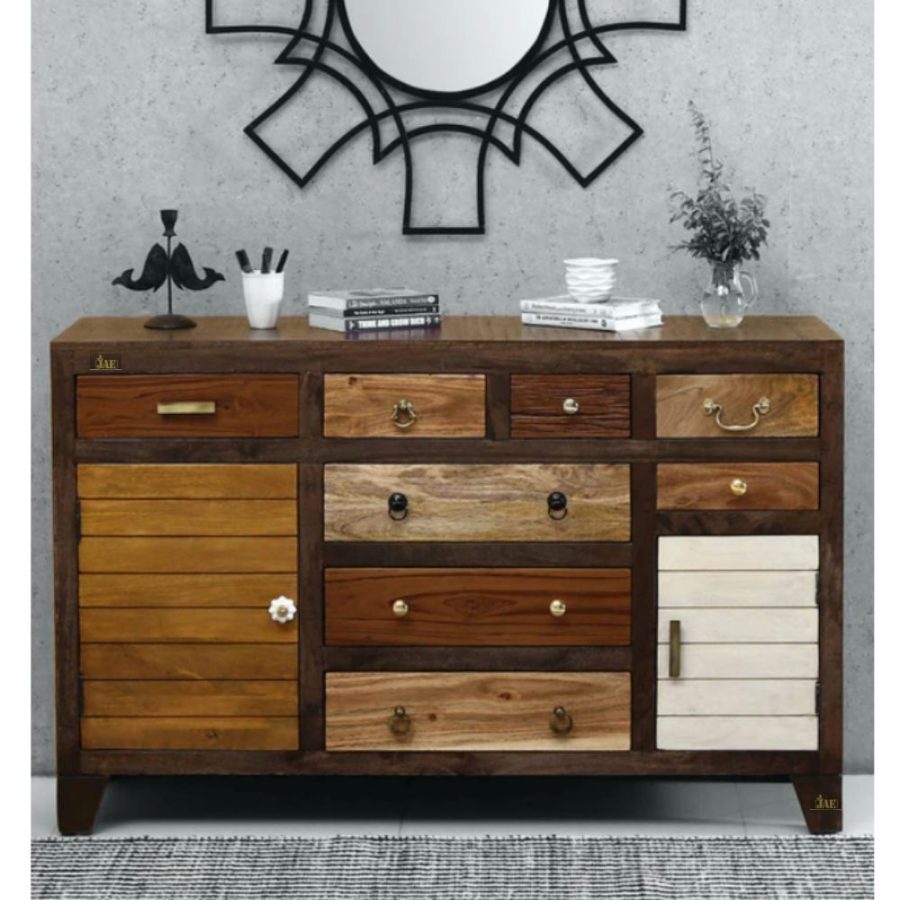 Additionally, you can take advantage of seasonal sales, promotional offers, and exclusive online discounts to get the best value for your money. With online shopping, you can easily compare prices across multiple platforms, ensuring that you find the best deal on the sideboard of your choice. 
Shopping for sideboards online offers unparalleled convenience and ease. Instead of visiting multiple stores, you can browse through various online retailers from the comfort of your own home. Online platforms provide detailed product descriptions, specifications, and high-quality images, allowing you to assess the quality and appearance of the sideboard before making a purchase.  
Additionally, you can read customer reviews and ratings to gain insights into the product's durability and customer satisfaction.
Once you've made your selection, simply add the sideboard to your cart, proceed to checkout, and have it delivered directly to your doorstep. Online shopping eliminates the need for transportation, parking hassles, and long queues, saving you time and effort.
Secure Transactions and Easy Returns  
Concerns about the security of online transactions are understandable. However, reputable online retailers provide secure payment gateways and encryption technology to ensure the safety of your personal and financial information. You can choose from various payment options, including credit cards, debit cards, or digital wallets, based on your preference and convenience.
Additionally, most online retailers have flexible return policies, allowing you to return or exchange the sideboard cabinet if it doesn't meet your expectations. Make sure to review the return policy before making a purchase to understand the terms and conditions. 
Tips to Buy Sideboard Online
To make your online shopping experience for sideboards a success, here are a few tips to keep in mind.
First, measure the available space in your room to ensure that the sideboard will fit perfectly.
Second, carefully read the product description, including dimensions, materials, and assembly requirements.
Third, check the shipping and delivery options, including any additional charges or restrictions.
Finally, read customer reviews and ratings to get insights into the quality, durability, and overall satisfaction with the sideboard you're considering.
Conclusion
When you buy sideboard online you get a wide selection, competitive pricing, convenience, and secure transactions. Explore the vast array of styles and designs, compare prices, and enjoy the convenience of doorstep delivery. With these benefits, online shopping for sideboards is a great option to find the perfect storage solution that combines style and functionality for your home.  
Whether you're looking to enhance your living room, dining area, or hallway, buying sideboards online provides a hassle-free and rewarding shopping experience. Embrace the convenience and benefits of online shopping, and transform your space with a stunning wood sideboard that complements your interior decor.