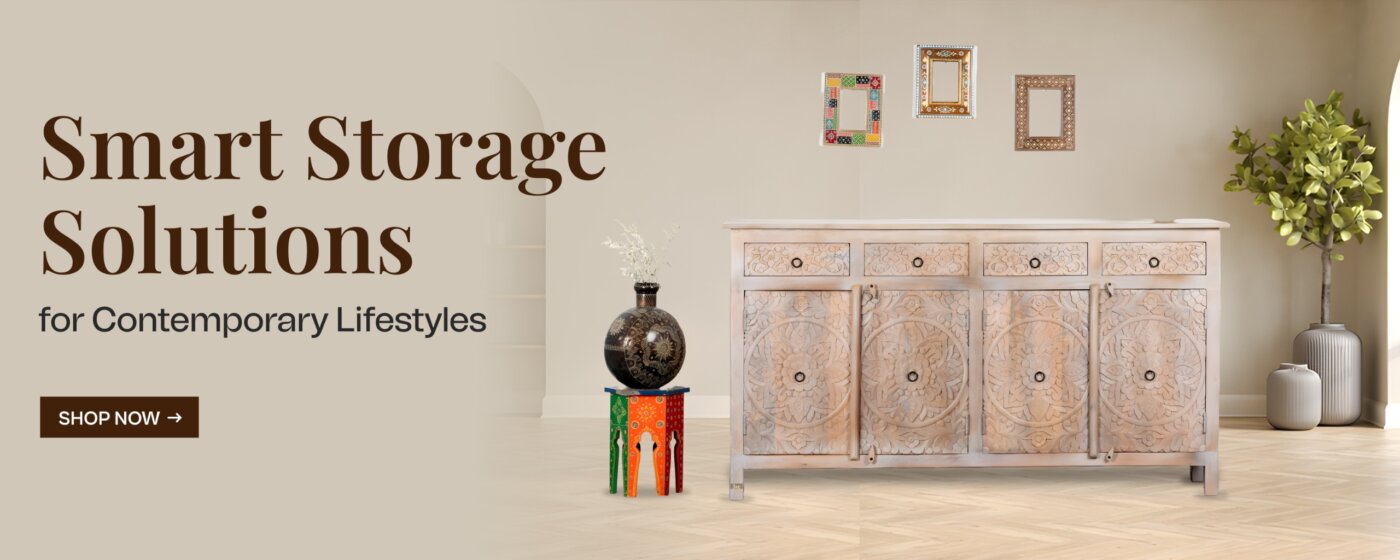 JAE Furniture: The Best Place to Shop for Sideboards Online
If you're in the market for a sideboard that's both stylish and functional, then JAE Furniture has what you need. Our collection of sideboards comes in all sizes, from small or narrow cabinet styles to larger buffet styles. With materials ranging from solid wood to carved wood, there is something for every décor style.
And if you're looking for something specific, like a dining room sideboard, we have plenty of options available. With quick shipping and easy assembly processes, our products are sure to make a stunning addition to any space.
Traditional Wood Sideboards: An Elegant and Functional Storage Solution
If you're looking for the perfect way to store dining room essentials in a fashionable and organized manner, look no further than a sideboard cabinet! Not only is the traditional wood sideboard both beautiful and functional, but it's also an ideal way to add some convenient storage space to your home. Whether you want to place it in your kitchen, dining room, or living area, a wood sideboard can be a perfect choice if you need additional surface and organizational space. With an elegant and sophisticated style that suits any decor, it can be the perfect solution for a spot to store plates and cutlery, display photos or accessories - or even just create an overall unique look.
The Benefits of Having a Sideboard Cabinet in Your Home
A dining room sideboard is a great piece of furniture to have in the home.
Perfect for dining rooms and hallways, it enables you to store your items out of sight in a stylish and contemporary way.
A wood sideboard adds timeless elegance to the space, providing multifunctional storage that you can be proud to display.
Placed in your dining room, a sideboard cabinet creates a focal point within the space while enabling you to store everything from crockery and cutlery to display pieces or treasured items.
A sideboard is an essential addition if you are looking for versatile storage with classic style.
Why choose JAE Furniture for the dining room sideboard?
For those looking to purchase a sideboard cabinet, JAE Furniture is an excellent choice.
All wood sideboards in our catalog are constructed of the highest-quality solid hardwood, ensuring long-lasting durability and contemporary style.
With a diverse selection of various colors and styles ranging from modern industrial to classic rustic, there is something to complement any dining room décor.
Additionally, JAE Furniture backs up their products with excellent customer service, guaranteed satisfaction and competitive pricing; making them the perfect choice when selecting a sideboard for your home.
JAE Furniture also provides a premium collection of other dining room furniture including – bar cabinet, modern bar cabinet, wooden bar chairs, kitchen bar chairs, bar counter chair, metal bar chairs, wooden cabinet, wooden dining chairs and wooden crockery cabinet.
FAQs
Q 1. What types of sideboards does JAE Furniture offer?
JAE Furniture offers a diverse collection of sideboards ranging from small or narrow cabinet styles to larger buffet styles. Materials primarily include solid wood and intricately carved wood designs.
Q 2. Is the wood used in JAE Furniture sideboards sustainably sourced?
Yes, JAE Furniture is committed to using high-quality solid hardwood for our products, ensuring both sustainability and durability.
Q 3. How long does it take for JAE Furniture to dispatch a sideboard after an order is placed?
JAE Furniture offers quick dispatch for our products. Exact timelines can vary depending on the specific product and availability, but we prioritize getting your furniture to you promptly.
Q 4. How easy is it to assemble a sideboard from JAE Furniture?
Our sideboards are designed for hassle-free assembly. Each product comes with detailed instructions to guide you through the process.
Q 5. Can I customize my sideboard order?
JAE Furniture offers a range of sideboards in various colors and styles. For specific customization inquiries, it's best to contact our customer service team.
Q 6. Are JAE Furniture sideboards suitable for spaces other than the dining room?
Absolutely! While traditionally used in dining rooms, our sideboards are versatile and can enhance kitchens, living areas, or hallways with both style and functionality.
Q 7. What other dining room furniture items does JAE Furniture offer?
In addition to sideboards, JAE Furniture boasts a collection including bar cabinets, modern bar cabinets, wooden bar chairs, kitchen bar chairs, bar counter chairs, metal bar chairs, wooden cabinets, wooden dining chairs, and wooden crockery cabinets.
Q 8. How do I care for my solid wood sideboard to ensure its longevity?
It's recommended to clean your sideboard with a damp cloth and to avoid placing it in direct sunlight or near heat sources to maintain its pristine condition.
Q 9. Can I view customer reviews or testimonials for JAE Furniture's sideboards?
Yes, customer reviews and testimonials can be found on our website. We value our customers' feedback and continuously strive for excellence in both product quality and service.
Q 10. Does JAE Furniture offer any guarantees or warranties on their sideboards?
JAE Furniture stands behind the quality of our products. Specific warranty details can be found on the product page or by reaching out to our customer service team.