When it comes to stylish and functional storage solutions, wooden sideboards have long been a popular choice. With their sleek designs and versatile nature, these pieces of furniture add a touch of elegance and sophistication to any space.
In this blog, we will delve into the enduring appeal of wooden sideboards, exploring their various styles, benefits, and tips for incorporating them into your home decor. Whether you're looking to declutter your living room, dining area, or hallway, a wooden sideboard offers a perfect blend of storage and style. 
The Beauty of Wooden Sideboards
Wooden sideboards are prized for their natural beauty and timeless appeal. Crafted from high-quality wood, these furniture pieces showcase the rich grains, textures, and colors of the material, creating a warm and inviting atmosphere in any room.
Whether you prefer the classic elegance of oak, the rustic charm of reclaimed wood, or the sleek sophistication of teak, there is a wooden sideboard to suit every taste and interior style. The versatility of wood sideboards allows them to seamlessly blend with various decor themes, from traditional to contemporary, making them a versatile choice for any home. 
Functional Storage Solutions
One of the primary benefits of wooden sideboards is their excellent storage capacity. With multiple drawers, shelves, and cabinets, these furniture pieces provide ample space to store and organize a variety of items.
From glassware to books, electronics, and even linens, a wood sideboard offers a convenient and stylish solution to declutter your living spaces. The flat top surface of the sideboard also serves as a display area for decorative objects, photographs, or artwork, allowing you to showcase your personal style and add visual interest to the room.  
Whether you use it in the dining room to store dinnerware or in the living room to hold entertainment essentials, a wooden sideboard offers both functionality and aesthetic appeal.
Incorporating Wooden Sideboards into Your Decor
To make the most of a wooden sideboard, it's important to consider its placement and styling. In the dining room, a sideboard can be positioned against a wall, serving as a buffet or a place to display decorative pieces. You can accentuate its beauty by placing a mirror or artwork above it, creating a visually appealing focal point.
In the living room, a wood sideboard cabinet can act as a media console, providing storage for DVDs, game consoles, and other entertainment accessories. Pair it with a statement mirror or artwork and adorn the top surface with vases, plants, or candles to enhance the overall aesthetic.  
In the hallway, a sideboard can serve as a functional storage solution for keys, mail, and other essentials, while adding a touch of elegance to the entryway.
Caring for Wooden Sideboards
Proper care and maintenance are essential to preserve the beauty and longevity of wooden sideboards.
Regular dusting with a soft cloth and occasional polishing with a wood-specific cleaner will help maintain the natural luster of the wood.
Avoid placing hot or wet objects directly on the surface to prevent damage.
It's also important to keep the sideboard away from direct sunlight, as prolonged exposure can cause fading and discoloration.
If there are any spills, it's important to clean them immediately to prevent stains.
With proper care, your wooden sideboard will continue to enhance your home decor for years to come.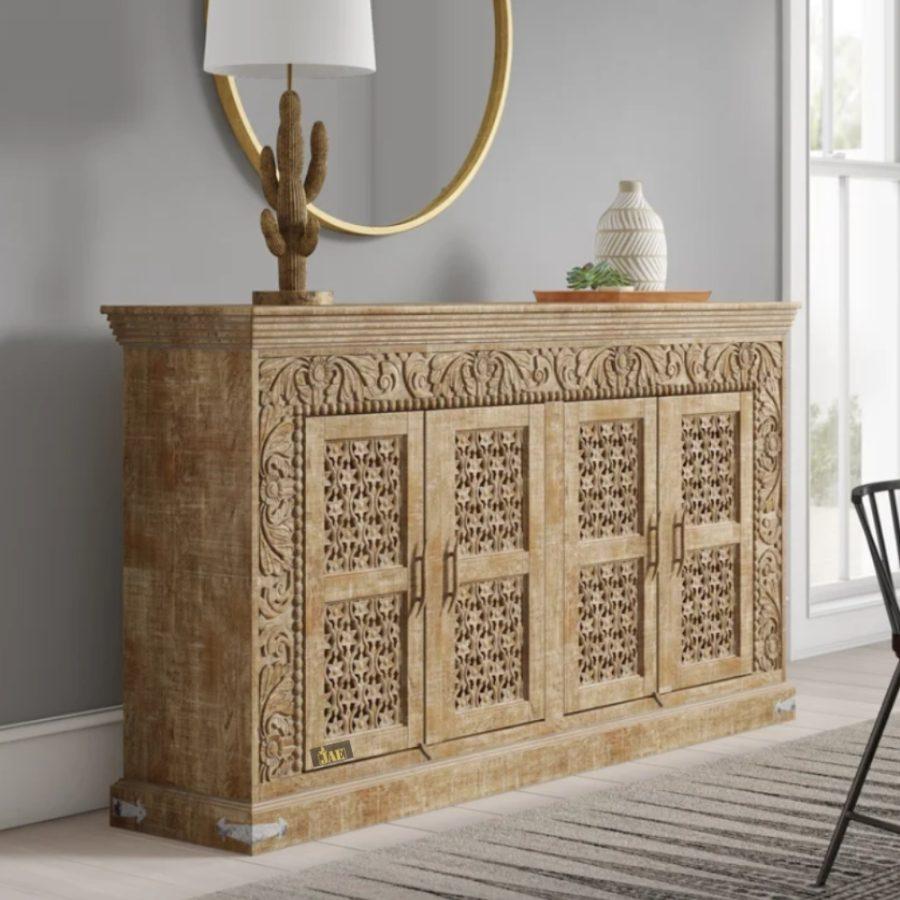 Conclusion
Wooden sideboards are more than just storage units; they are elegant and versatile pieces of furniture that bring both functionality and style to your living spaces. With their timeless appeal and the natural beauty of wood, these sideboards add a touch of sophistication and organization to any room. Whether you choose a classic design or a contemporary style, a wooden sideboard is a statement piece that can elevate the overall aesthetic of your home.